Description
EZ Zone Tape Purge Gas Retaining Tape
About
EZ Zone Tape innovatively offers the perfect solution for preventing weld contamination when sealing the root gap between pipes to retain Argon gas. The welding tape is comprised of two adhesive-coated aluminum strips on the outside edges, with an adhesive-free center "Zone."
The unique design of the aluminum welding tape allows the edges to stick to the area surrounding the root gap on stainless steel and aluminum pipes with the adhesive-free "zone" being placed over the root gap. The adhesive portion of EZ Zone Tape is then prevented from ever coming into contact with the pipe as it is being welded, allowing for a clean and contaminant-free weld.
Halogen and chlorofluorocarbon free, EZ Zone's 3 mil (75 micron) foil can conform to any irregular surface and is able to withstand temperatures up to 500°F (260°C).
EZ Zone Tape allows a welder to effectively prevent contamination in the weld joint and increase the number of pure finished welds.  That is why EZ Zone has become the ideal standard within the nuclear, chemical, power plant, and aerospace industries.
Features and Benefits
Contaminant Free Weld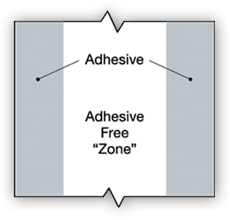 EZ Zone Tape eliminates the worry of adhesive contaminating the weld area when sealing the root gap between pipes because it is composed of two outside adhesive sections, separated by an adhesive-free center "zone"

Only the adhesive-free "zone" is placed over the weld, therefore the adhesive never comes in contact with the pipe as it is welded; creating a clean, contaminant-free weld

The "Zone" acts as a centering guide, making correct placement of tape and ensuring no adhesive contamination

Reduces pipe clean-up time and avoids costly x-rays
Flexible & Heat Resistant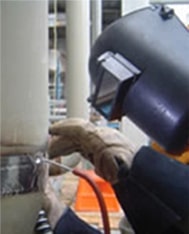 Malleable aluminum tape easily conforms to a number of complex shapes and uneven surfaces including stainless steel and aluminum pipes

Pressure-sensitive adhesive makes for easy application

Adhesive portion of aluminum tape withstands temperatures up to 500°F (260°C)

Aluminum foil portion of tape withstands temperatures up to 1100°F (593°C)
High Quality and Safe Components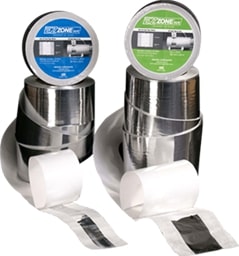 EZ Zone Tape is free of halogens including fluoride, chloride, and bromide as well as chlorofluorcarbons, increasingly important in today's highly regulated safety environment
How EZ Zone Tape Works
Clean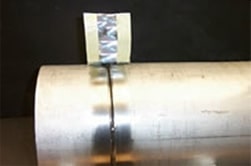 Clean the weld area of all contaminants
Align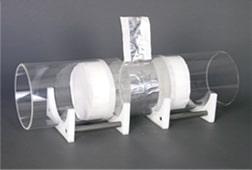 Line up adhesive – free section of EZ Zone Tape over the root gap

Adhesive sections of the EZ Zone Tape should be secured on each side of the root gap of the adjoining pipes
Introduce Gas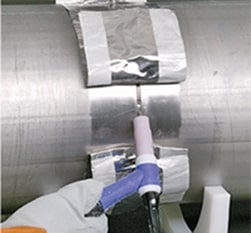 Insert purge gas needle into root gap, ensuring connection to gas line

Introduce noble gas, evacuating oxygen

Commence welding when desired PPM level is achieved
Types & Sizes
EZ Tape Fully Coated Aluminum Tape
PRODUCT

ITEM NO

DESCRIPTION

WIDTH

ADHESIVE FREE ZONE WIDTH

LENGTH

English
Metric
English
Metric
English
Metric

EZ-ZT 2.5

EZ Zone Tape

2.5″

64 mm

1″

25 mm

75′

23 m

EZ-ZT 4.0

EZ Zone Tape

4.0″

102 mm

2″

51 mm

75′

23 m
Aquasol Viet Nam specializes in supplying and distributing products of Aquasol EZ Zone Tape Purge Gas Retaining Tape in Vung Tau and all over Vietnam with high quality and reasonable price. Contact us when you need to buy products or you have any requests for product information