Description
Aquasol Liquifilm Water Soluble Purge Film And Adhesive
About
Liquifilm is a completely biodegradable, water soluble purge film that can be used as a purge gas barrier during TIG welding and is a highly effective alternative when total purging is impractical or too costly. Flexible and robust, Liquifilm can be used on stainless, duplex, and chromium steels as well as titanium alloys.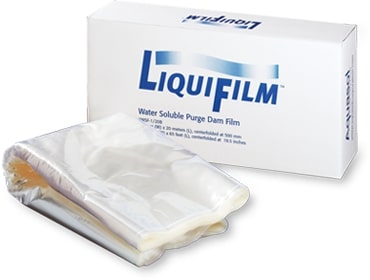 Available in 1 x 20 meter rolls center-folded or wound on a core, this transparent film can be cut to the desired size for any pipe diameter. Liquifilm can be punctured for gas inlets and outlets with little risk of tearing and has high-force resistance enabling the weld area to maintain a greater level of positive pressure.
Liquifilm can be placed in close proximity to the weld zone, then dissolved with hot or cold water or steam that is introduced through the pipe. Less inert gas will be used, ultimately leading to lower costs for the overall welding operation. An impenetrable purge barrier, Liquifilm is suitable for nuclear, aerospace, and other applications.
Features and Benefits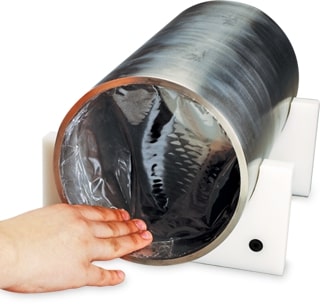 Impenetrable Purge Barrier

Excellent barrier for retaining noble gas (argon or argon/helium mix)
Flexible and Robust

For use on stainless, duplex and chromium steels and titanium alloys

Can be punctured for gas inlets and outlets with little risk of tearing

High resistance to pressure, allowing for greater positive pressure to be maintained in weld area
Transparent
Transparency allows for ease of viewing during welding process
Ease of Removal

Rapidly dissolves in hot or cold water

Leaves no residue in the pipeline
Safe
Suitable for nuclear, aerospace, and other applications
How Liquifilm Works
Clean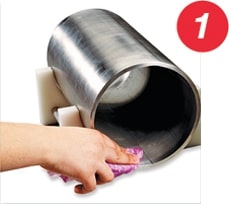 Clean inside of pipe, removing contaminants from surface
Apply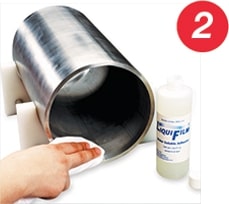 Apply Liquifilm Water Soluble Adhesive to inside of pipe. Thoroughly coat the entire circumference of the pipe surface where film is to be placed.
Trace and Cut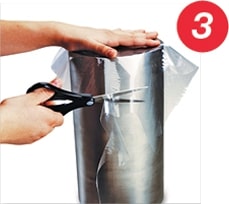 Trace pipe's inner diameter by pressing Liquifilm along pipe edge, creating an impression. Then fold to form a 90° angle. Cut Liquifilm in a circle around the impression, approximately one-third times greater than pipe diameter.
Press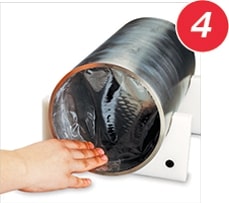 Press glossy surface of Liquifilm against tacky adhesive inside the pipe to create an air tight seal. If required, puncture a small hole in the center of the purge dam to allow oxygen to escape or dissipate through the root gap.
Types & Sizes
Liquifilm Water Soluble Purge Film and Adhesive
PRODUCT

ITEM NO

DESCRIPTION

DIMENSIONS

CASE PACK

English
Metric

ASWF-1/2ORG

Liquifilm Water Soluble Film Kit

39″ x 65′

1 m x 20 m

12

ASWF-1/2OB

Liquifilm Water Soluble Film Brick Format

39″ x 65′

1 m x 20 m

12

AWSG-500

Liquifilm Water Soluble Adhesive

16 fl oz

500 ml/bottle

24

AWSG-250

Liquifilm Water Soluble Adhesive

8 fl oz

250 ml/bottle

48
Aquasol Viet Nam specializes in supplying and distributing products of Aquasol Liquifilm Water Soluble Purge Film And Adhesive in Vung Tau and all over Vietnam with high quality and reasonable price. Contact us when you need to buy products or you have any requests for product information